Who We Are
We are focused on Washington state's Eighth Congressional District.
Interested in supporting our efforts? Visit our Get Involved page to learn more about how to join us.
Our History
We are a local chapter of the Indivisible movement and are inspired by the Indivisible Guide. The Indivisible Guide was written by a group of former Congressional staffers who witnessed the Tea Party minority block President Obama's agenda. Let's do the same for Trump's agenda.
Indivisible Washington's Eighth District was founded as a Facebook Group in January 2017. Since then, we have received an outpouring of local support, and we have more than 1,000 members.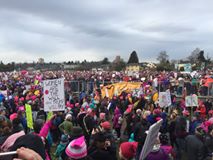 Get Out The Vote (GOTV): Email Us
Voter Registration: Email Us
Media Contact: Email Us