Protect Public Education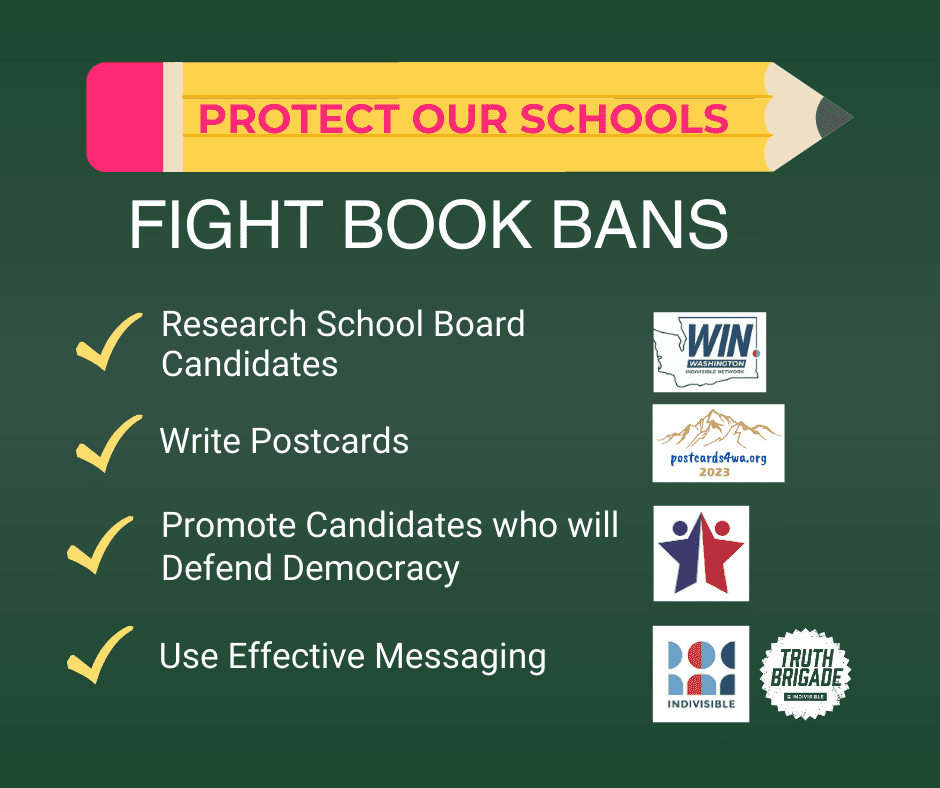 It's back-to-school time for families. Time to dust off the backpacks and lunch boxes, sharpen the pencils, and inspect the school library to make sure your child won't be exposed to "woke" ideology…. Wait, WHAT???!!!
Our public schools have been under attack as never before, but there are so many ways you can help!
Identify problematic school board candidates
Learn more about the great work being done by Washington Indivisible Network Schools Project and Washington Stop Moms for Liberty in this 20-minute video presentation originally created for Indivisible Bellingham.
Write Postcards
Postcards 4 WA is making an effort to find good school board candidates in tight races where our pens and stamps can be put to good use. They can provide sponsored stamps if needed!
Amplify school board candidates that share Indivisible values
WIN is maintaining a list of school board candidates that have signed the Defense of Democracy pledge to maintain schools that are open and inclusive for all. You can promote these candidates on your social media with just a few clicks.
Learn to confidently defend our public schools
Removing books, harassing teachers, and whitewashing history curriculum is NOT a winning message… So how do they do it? They reframe book bans as parental rights, harassing teachers as free speech, and respecting someone's pronouns as child abuse! How do we center the debate on the values most Americans share? Check out these guides!